A couple of years ago, after Hubby retired, he began expanding his love of music with guitars, a keyboard, speakers, amplifiers, etc. etc.
Sorry I don't have a "before" photo of the room but, believe me, it wasn't anything you'd probably want to see anyway.
Since the room is visible from the downstairs hallway and family room, I gently suggested that maybe it could look a little bit better.
Hubby agreed and accepted the challenge to decorate it on a budget. He did all the decorating himself with only a couple of small suggestions from me. After all, it is his room.
Working mostly with what we had, this is now "the music room".
Enter here:
Most of the electronic equipment was black, so I suggested red accents... which we had lots of anyway.
Our son did this painting as an art project when he was in college. It's quite large and needed to stay here since there was no other place to hang it.
Fortunately, it has black and red in it.
Hubby's beloved resophonic guitars.
Hubby made this long table for a music stand.
He bought frames at Michael's to showcase some of his old albums and 45s.
This bookscase holds a tv to view instructional videos and other electronic equipment.
He used two office chairs that could be moved or swiveled for use when he has other guitar players visiting.
The couch is for the audience . lol
Hubby's accordian from 5th grade.
He doesn't play that anymore, for which I'm thankful. :)
His little table top vignette. The red square table used to be the base for our Christmas tree. Hubby made that, too.
The bookcase on the right houses his CDs, old running trophies and little mementos.
In all, I think he spent about $100, mostly for the frames and wood for his music stand. We already had everything else.
Believe it or not, this is the way it looks ALL the time. I don't move anything or clean in there!
He does that all himself.
Hubby's a neat guy, in more ways that one. lol
What do you think? Did he do ok?
Hubby and I will be joining these great parties below:
Kim @ Savvy Southern Style for Wow Us Wednesday
and with Sherry @ No Minimalist Here for Open House Thursdays.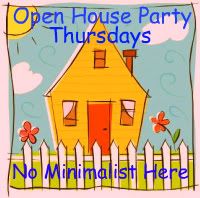 See you there and thanks for stopping by. It's always great to see you.
Babs