Last week I started looking for ideas for a summer wreath for my front door.
I really don't like to spend a lot of money on faux flowers since my door is in full sun for half the day. The flowers fade so badly that I usually only get one season or so from the wreath.
I wanted to do a summery "southern style", but the only things I had in the house were some magnolia branches I bought last year at GW and an old grape vine wreath.
I wanted to use something different, but what?
As I stood there staring at the bare wreath I remembered the plate I had found at GW a while back. Just ignore the place mats.
Hmmm. Maybe I could attach the plate to the wreath...
I wanted to write "welcome" on the plate and decided to use a permanent marker. Pre-printed letters would probably look nicer, but I didn't know if they would stay on in the humidity and rain.
Please excuse the quality of the writing... I didn't get the "calligraphy gene" either. :)
After the marker dried, I tied the plate to the wreath with waxed string. We've had the roll of string
forever...and I don't know where we got it-- but you could use wire...or hot glue if the plate isn't too heavy.
I glued Spanish moss behind the plate and a couple of faux flowers. The ribbon came with the plate to hang it, but I decided to tie it on the bottom.
For Independence Day, I added two small flags.
Happy Summer and Happy 4th of July!
I'm hurrying to join Kim@SavvySouthernStyle for Wow Us Wednesday. See you there.
And also visiting Sherry@NoMinimalistHere for Open House Party Thursdays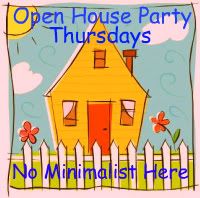 Thanks for stopping by. Don't forget to check out my giveaway seen HERE.
Hugs, Babs